Boy Scouts Adventure Trips
CanoeCanoe Outfitters has been planning and running camping trips for scouts since 1998.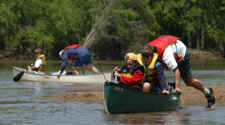 Georgia is a great place for your scouting adventures. Canoes or kayaks, inland rivers or the islands and estuaries of coastal Georgia, offering opportunities for camping, exploring, and expanding your outdoor experience and knowledge.
Come join us, and let CanoeCanoe Outfitters help you plan your next high adventure camping trip.